Welcome to the Seventh Court of Appeals, Amarillo, Texas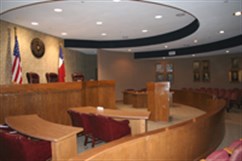 Welcome to the website for the Seventh Court of Appeals of Texas. The Court's offices are located on the second floor of the Potter County Courts Building in Amarillo.
The Seventh Court of Appeals was created in 1911. The Court is composed of a Chief Justice and three justices. It has intermediate appellate jurisdiction of both civil and criminal cases appealed from lower courts in forty-six counties of Texas (listed below); in civil cases where judgment rendered exceeds $100, exclusive of costs, and other civil proceedings as provided by law; and in criminal cases except in post-conviction writs of habeas corpus and where the death penalty has been imposed.
Counties Served
Legal Citation