Welcome to the Fourth Court of Appeals, San Antonio, Texas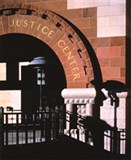 The Fourth Court of Appeals has intermediate appellate jurisdiction of both civil and criminal cases appealed from lower courts in thirty-two counties of Texas; in civil cases where judgment rendered exceeds $250, exclusive of interest and costs, and other civil proceedings as provided by law; and in criminal cases except in post-conviction writs of habeas corpus and where the death penalty has been imposed.
The Fourth Court of Appeals is comprised of seven Justices who hear cases from thirty-two counties located in South Texas and the Texas Hill Country.
Counties Served
Legal Citation
Emergency Filings
Documents that must be filed in paper may be filed with the court during normal business hours which are Monday through Friday from 8:00 a.m. to 5:00 p.m. In case of an emergency, filings may be made after 5:00 p.m. provided counsel coordinates the filing with the Chief Deputy Clerk. A party can coordinate an emergency filing by contacting the Chief Deputy Clerk at (210) 335-2635 during normal business hours to arrange for the court to remain open to a reasonable time to accommodate the emergency filing. Otherwise, documents may be e-filed through Texas.gov, the portal established by the Texas Legislature.